Gearbubble, founded in 2015, fills a consumer need while also allowing them to make money. Or so it says. As an eCommerce site it lets people buy personalized products, while it also promises revenue streams on several fronts. But are the products from Gearbubble any good? And do those revenue streams pan out, or is this just a scam?
I wanted to get to the bottom of this popular company and find out is Gearbubble legit. After digging until I found the truth here is my completely unbiased Gearbubble review.
What Is Gearbubble?
Most simply put, it is an eCommerce platform. It can integrate directly with stores on Amazon, Etsy, and eBay, allowing customers to order personalized products that are then automatically fulfilled. This creates a print-on-demand service.
There are two different ways that people can make money using Gearbubble: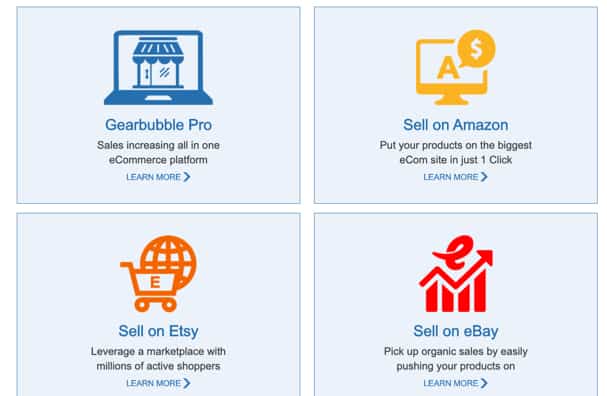 Gearbubble Pro:

This allows a person to launch a full website with full shopping cart capabilities. Success with this route requires some method of driving traffic to the site. This aspect of Gearbubble is comparable to the services of Shopify.

ECommerce Platform Integrations: This allows established sellers, or new ones, to take advantage of the marketing of other platforms while connecting to Gearbubble via API. The seller store is on Amazon, eBay, or Etsy, while the order is fulfilled automatically by Gearbubble.
How Much Does Gearbubble Cost?
Gearbubble is free to use. There is no joining fee nor overhead costs for the basic plan. However, it's important to keep in mind that it takes some investment to have any success in sales and making money. To get selling will take the money invested in advertising. And whether you're building a site from scratch, or already have an established store on one of the three other platforms, it will take a good amount of time invested in design.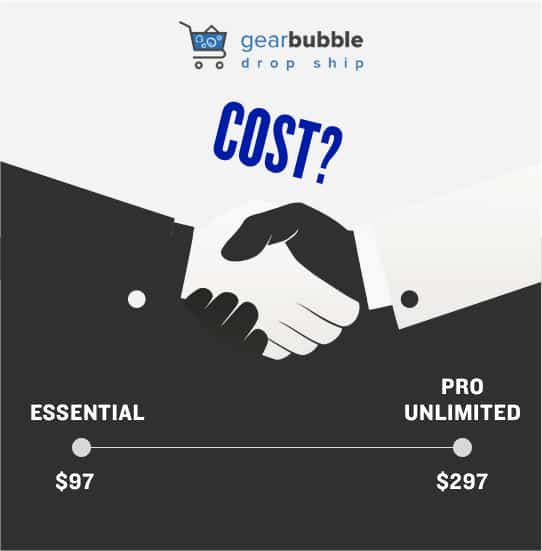 However Gearbubble Pro does have some costs to use, and they are actually more expensive than Shopify. There are two different plans to choose from, both of which come with a free trial.
Essential: "

For start-up e-stores" this costs $97/month and allows for 100 products, 5000 site visitors and includes all the Gearbubble Pro features

Pro Unlimited: "For growing e-stores" this costs $297 and offers unlimited products and site visitors as well as all the Gearbubble features.
In considering the value of Gearbubble Pro it's important to understand these costs will be deducted each month from the total sales. Because this is more expensive than Shopify, the question is really whether the services Gearbubble offers are worth the price.
What Do Gearbubble Reviews Say?
So the question remains. Are Gearbubble services any good? I combed through hundreds of Gearbubble reviews to try and find an answer, and the truth is, ratings were all over the place. Some people loved the products:
"GearBubble also kept me informed from receiving my order to shipping via emails. I am very VERY pleased! I will wear this shirt PROUDLY."
"Would buy a gift from them again and definitely recommend them as a place to find unique gifts."
"Arrived on time and was great quality."
While others never received theirs:
"Item is over two weeks late from the delivery date. I ordered it over six weeks ago, ruined Mother's Day gifts for almost a $100 order. The customer service was virtually unreachable."
"I ordered 2 shirts a few weeks ago and have not received them. My bank has been charged"
One customer was very happy with how easy it was to order:
"The process was simple and done with ease. They showed me a preview which was perfect. They processed my order super fast and it arrived right on time."
While other customers complained about cheap or broken products:
"Very cheap necklace at least I had a silver necklace to put the pendant on. Could have shipped it in a jewelry box instead of just throwing it in a bubble envelope. Was it worth 49.99 not really"
"I opened the box n the mug was in pieces. There was no bubble wrap or any kind of cushioning for the mug,just the mug in a box. There's no customer service number to contact them."
In fact many customers complained about a lack of customer service:
"It was ordered at the end of April, the day before their advertised cutoff date. It's a week later, and I still haven't received the gift. Customer service is no help."
"I sent an email to customer support 12/20/19 & have not received a response back as yet."
But overall the reviews of the products were positive. More people than not were quite happy with the products they ordered. Of course it depended on the site, but one site with well over a thousand Gearbubble reviews had about 70% positive reviews.
That seems quite good at first, however, if you think about it, it's not great. These products are representing your eCommerce site. A 70% satisfaction rate with your products is really not great. And remember, that's the best-case scenario. Another Gearbubble review site had 80% unhappy customers. Satisfaction rates don't get much worse than that!
Also of great concern: the Better Business Bureau (BBB) gives Gearbubble an F grade and lists 142 complaints against the company.
Is Gearbubble Legit?
Reading through some of the reviews it started to seem like maybe Gearbubble was just a big scam. But overall customers did receive their products and many were very happy with them. These were definitely legit Gearbubble reviews and many happy customers posted pictures of their new items.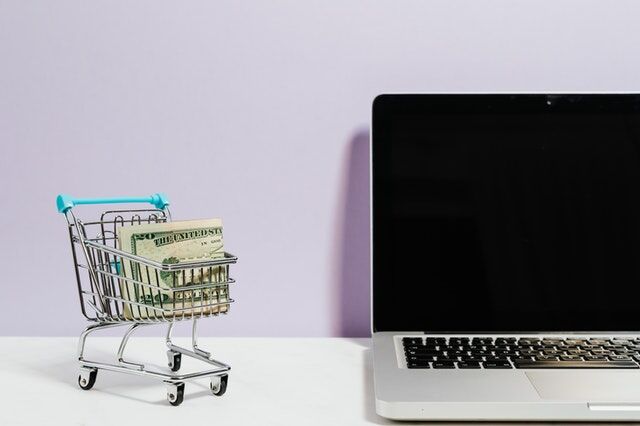 You also have to consider that some people just go to write reviews to complain, so you have to be as suspicious of overly negative review sites as overly positive ones. It definitely seems like the company has some problems with product supply, delivery and customer service, but overall I'd say it definitely seems legit.
Something else I noticed is that the company did reach out and respond to many of those negative reviews. So that could be a good way to resolve problems. It also shows that the company does have customer service.
So while the product side of things is problematic, but legit, how is Gearbubble for making money?
A Better Way to Make Money Than Gearbubble.
Well…. You've seen enough that you understand Gearbubble is nothing but a scam.
I get it, I really do.
Thinking back to when I first started trying to figure out how to make it online, I was looking for a quick buck.
You know like 4-7 days to make a few hundred. Now that I have a different perspective, I see how small-minded I thought when it came to money.
Over the years a big lesson I realized about making money online is that you should not take on any "online business venture" unless you're going to commit to it for a minimum of 12 months.
I've got something perfect for you to check out and I've taken this course myself and it changed my life.
This is basically how it works: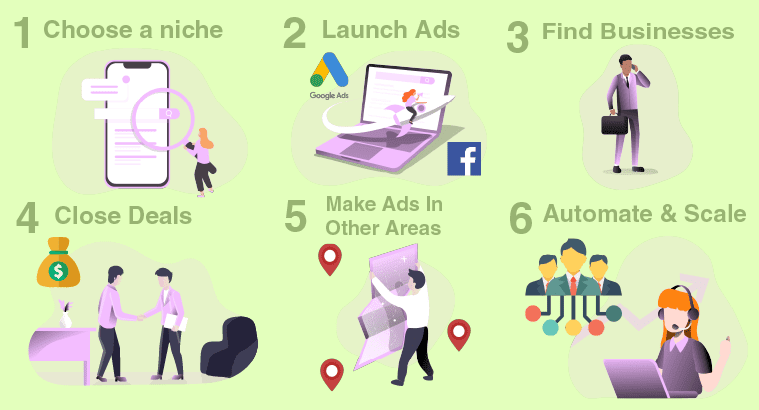 See the internet has drastically changed in the last few years. Enough to be able to make $20,000, $50,000 or even over $100,000 per month!
I'm not kidding.
Pretty much all of my friends started making money online around 3-5 years ago and all of them are now earning at LEAST $20,000 a month.
This is one of the reasons I dropped out of college.
I didn't want to simply get a degree and go get some high-paying entry job at an office or big company having to grind away 40+ hours per week.
Nah, that's not the lifestyle I wanted.
I wanted to be able to work on my own schedule, doing what I wanted, and doing it the best I could.
It's something never experienced before in history. There's a rapid increase in businesses moving online and they need business more than ever.
Imagine I'm John and I have a tree trimming service. Well, John and his team have enough room to take on 10 new clients per month.
If I were able to generate an extra 10 new clients per month, they'd be more than happy to pay me a cut.
This is the entire business model.
You flip leads to businesses and profit.
Look, if you're curious about it, go check it out, it might be something you'll be interested in.